Upgrade to Express Delivery and order before 3PM for delivery next working day!
PRLC-U1R
POWEROAD LINC INFI, the smart 12V LiFePo4 battery, can provide unsurpassed performance with unlimited batteries in parallel connection and up to 4 batteries in serial connection.
LINC INFI is the 12V Lithium battery, is backed by the best quality standards.
Harness the full capacity potential of your battery with Lithium. Full discharge capability thus using all the capacity available.
Thanks to our deep know-how in battery technology, the capacity of LINC INFI is infinite by connecting them unlimitedly in parallel and the voltage can be increased to 48V with 4 batteries in serial connection, which is flexible for Lithium battery DIY.
What's more, with built-in Bluetooth, battery status of SOC, voltage, and etc., can be easily monitored through POWEROAD App in your mobile phone. Now the APP is available for both iOS system and Android system.
Inbuilt LED state of health battery monitor display
With as high as 150A continuous discharge current, more high-power devices can be driven by our battery. For example, the Lithium battery is perfect for RVs, marines, solar systems, low speed electric vehicles and more.
Key Features
● 12V to 48V flexible battery system of infinite capacity for powering various applications
● Built-in Bluetooth for easily monitoring SOC, SOH and more via APP
● 25A high output current for driving high-power devices
● Cost saving with detachable upper cover and replaceable BMS
● Self-developed BMS for extending battery life and ensuring battery safety
● Sleep mode for reducing energy consumption and prolonging the shelf life
● 3000 Cycles at 100% Depth of Discharge – 6000 Cycles at 50% Depth of Discharge
● Dual terminal design for easier installation and better heat dissipation
● IP54 protection level for ensuring battery remains unaffected by water under specified conditions
● Compact size for direct drop-in replacement and easy installation even in limited space
Performance Characteristic
Specifications
Electric
Nominal Voltage
12.8V
Nominal Capacity
48Ah
Stored Energy
614Wh
Internal Resistance
≤100mΩ
Charge
Charge Voltage
14.4V
Charge Mode
CCCV (Continuous Current, Continuous Voltage)
Standard Charge Current
9.6A
Max. Continuous Charge Current
25A
Discharge
Discharge Cut-off Voltage
10V
Standard Discharge Current
9.6A
Max. Continuous Discharge Current
25A
Peak Discharge Current
80A (=2S)
Environment
Charge Temperature Range
0°C ~ +45°C
Discharge Temperature Range
-20°C~ +55°C
Mechanical
Weight
5.5kg±0.5kg
Dimensions (L×W×H)
195mm×132mm×183mm
BCI Group

U1R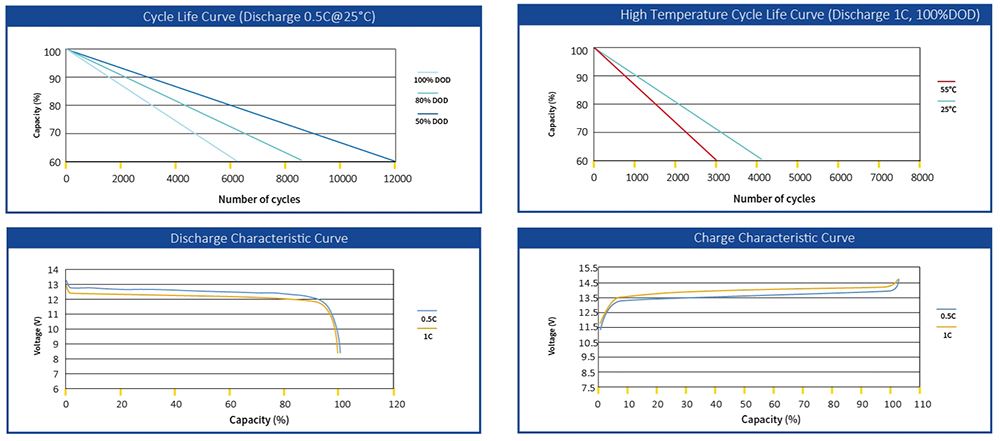 Quality Control Process
Well-designed quality control process leads to high-quality products. We address the use of 6 main quality control steps, starting from quality standards setup and covering from raw materials, semi-finished products and finished products. Only qualified finished products without any defects are allowed to enter the market.

Certifications
Our manufacturing facility is SA8000:2014, ISO14001:2015 and ISO9001:2015 certified for the Social Accountability, Environmental Management System and Quality Management System.
Our lithium-ion batteries have been designed to satisfy a number of standards and tests required in the countries in which we offer them.
Rigorous Testing
Safety is our highest priority. We only provide safe lithium-ion battery products to the market. That's why our batteries have been rigorously tested and verified in our own test center with raised quality standards and a full list of tests to meet or exceed highest safety requirements.
| | |
| --- | --- |
| Height (mm) | 183 |
| Length (mm) | 195 |
| Width (mm) | 132 |
| 20 Hour | 48 |
| Brand | Poweroad |
| Capacity (Ah) | 48 |
| Construction | Lithium |
| Ideal Charge Voltage | 14.4v |
| Maintenance Free | Yes |
| Product Type | Battery |
| Recharge Cycles | 5000 |
| Suitable for use with motor mover? | Yes |
| Suitable for wild camping? | Yes |
| Terminal Layout | Positive on Right (Layout 0) |
| Terminal Type | Bolt Through Terminals (Type 2) |
| Top Up Charge Voltage | 13.6v |
| Voltage | 12V |
| Warranty (Years) | 5 |
| Weight (kg) | 5.5 |
Free Standard Delivery
Upgrade to Express Next Day!
Pay by Card or PayPal
SSL secured for peace of mind!
0% Interest Free Credit
Spread the cost of your purchase!
Rated 4.8 out of 5.0
See our latest customer reviews!
Upgrade to Express Delivery and order before 3PM for delivery next working day!